Upcoming Services and Events
We are delighted to be worshipping together again through online video. Our worship team are producing weekly "Home Sheets" of prayers, Bible readings and reflections to join together in spirit as a church community. These are emailed to our congregation each week, along with instructions on how to join the video and telephone calls. Our Sunday School is also meeting fortnightly online. To join our mailing list, send us an email.
Additionally, the Scottish Episcopal Church is broadcasting weekly Eucharist services, available here from 11:00am each Sunday. Do join the rest of our Episcopal church as you are able.
Service pattern
Every Sunday at 11:00am (online, with the congregation of St Andrew's, Innerleithen)
Every Thursday at 10:00am (online)
Sunday School meets every other week at 9:30am (online)
Recent events and news: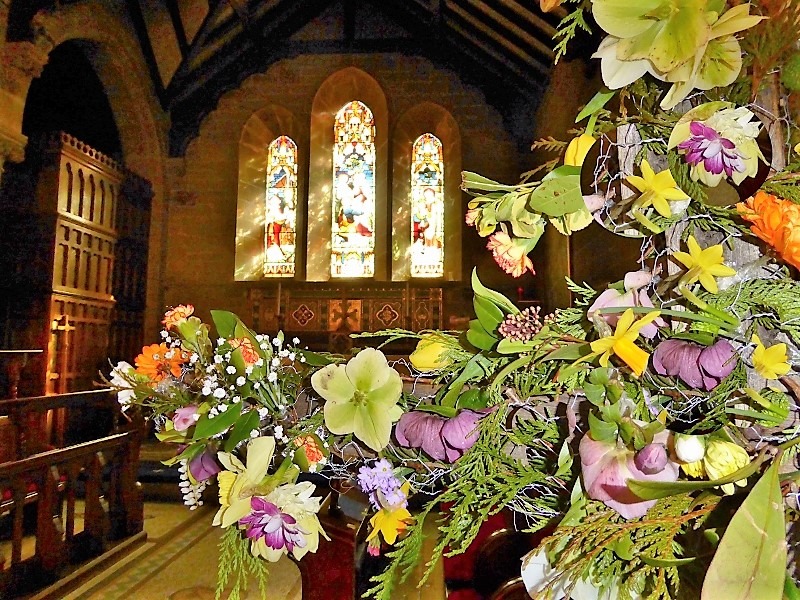 Over the second half of 2020, we grew more comfortable as a congregation on Zoom, and our new Rector settled into this unexpected form of ministry. The events that had marked the passing of previous years were largely postponed this year, as we hope and pray for an end to the effect on the virus on our lives.
In June, we welcomed the belated arrival of Andrew Taylor-Cook as our new Rector, and joined together in his licensing service.
In May, we embraced online video to join together again as a virtual congregation.
In April we celebrated the promise and triumph of Easter as we have never done before, alone and yet together.
In March we, and the rest of Scotland, watched and prayed as our regular activities ceased to curtail the spread of the Covid-19 coronavirus.
In February we marked the start of Lent with an Ash Wednesday service, and began a Lent study course in people's houses.
In January we welcomed the announcement of our new Rector, the Rev Andrew Taylor-Cook, who will be joining us in June.
2019
In December we celebrated the birth of Jesus in different ways: as Light of the World in our Christingle service, as a difficult time for many in our Blue Christmas service, as an event for all with our join-in Nativity, and with traditional carols and readings in our Midnight and Christmas morning communion services. We also enjoyed the Choir Christmas concert and our Advent coffee morning.
In November, we joined with other churches to remember those who have sacrificed their lives for us, looked ahead to Christmas with our craft stall at the Burgh Hall Christmas Market, and interviewed for a new Rector.
In October, we celebrated the fruitfulness of God's creation in our Harvest Festival and collected 39kg of donations for Peebles Food Bank.
In September, we welcomed Philippa into the church through baptism, and learned about life in the Holy Land from Rev Kate McDonald, Associate Minister of St Andrews Memorial Church Jerusalem and Tiberias.
In August, Afternoon Tea at Anne & Ian Rogers' garden in Eddleston raised over £700.
In July, church members and visitors enjoyed browsing pre-loved women's and children's clothes at Dress to Impress, and raised over £1000.
In June, we held a day of prayer as part of global movement Thy Kingdom Come.
In May, St Peter's Choir recorded a video as part of SongWave, and we supported Christian Aid week events.
In April, we welcomed the missionary family we support to our Easter Week celebrations, and rewired our church.
In March we began by welcoming the Bishop to lead worship, and ended by welcoming mums, dads, sons and daughters to our Mothering Sunday celebrations.